Everyone shares photos on social media. In fact, Instagram was started as a photo sharing platform. You want to engage people on your blog and ask them to reply, and good stock photos are the best way to accomplish that mission. Good photography and photos cost a lot of money, and if you are a regular blogger the investment will get very expensive. A tool you can use is Compfight.
It searches photos through Flickr that have a creative commons license for commercial use. You can do a quick search of emotions, ideas or objects or anything that will represent the idea you are looking for in your blog post. Compfight will provide you with the HTML code and help you with the proper citing. If you are blogging on a regular basis but have a little budget, try Compfight to help you illustrate your blogging points. Stops the possible legal issues.
If you want to create your own photos rather than going through the hassle of looking for copyright-free stock photos, trying using PicMonkey's online photo editor. Although this tool is somewhat different than Compfight, you can create professional photos by adding a variety of frames, special effects and font types of your photos. Create graphics for your blogs and posts, make banners and buttons for your social media accounts, and just brighten up your pages.
Another tool or app that offers graphics is Canva. Canva will help you design Facebook cover photos, blog images and give you a library of stock images. Collaborate with other users and share your images with someone else. This cuts down on the cost of this tool.
Analytics tools are necessary when you are trying to decide if your marketing program is doing any good. Komfo is a new free Facebook analytics tool that provides analytics that are easy to manage and helps you analyze your Facebook content.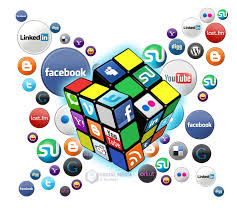 Komfo shows the percentage of your fans you are reaching with your posts and where you are ranking. You can see up to a maximum of 100 posts and analyze the success of these posts. You can also as Komfo to analyze each post to see what is working. Komfo takes your click-throughs and gives you a click-through ratio for every post you present. The percentage of people who saw your post lists on the reports page. Komfo also provides you the ratio of negative feedback or a spam score as a percentage of your total clicks. A great tool to have when trying to determine what posts are effective.
A precursor of Komfo, Facebook's EdgeRank is the name assigned to the algorithm that Facebook analytics uses to determine what posts or articles are gaining the most click-throughs. Although this tool was helpful in 2013, it is now defunct, and Facebook no longer offers this tool. Switch to Komfo or see PageRank the algorithm used by Google's search engine. PageRank still seems to be the best algorithm to rank websites and posts.